The cello arrived two days ago. I was scared to open it and face the music. A flimsy cardboard box, some hunks of styrofoam, and the black nylon carrying bag were all that protected this fine instrument on its journey. I drew it from its bag unscathed and held it close, trembling a bit. The strings were loose and it had to be tuned. I called for my guitar-playing son to help me. At the piano, we figured out which C, G, D and A we were after and tried to match the pitches. Jonathan is used to tuning guitars with nifty worm geared heads and he was frustrated with the cello's crude wooden pegs wedged in tapered holes. After a few minutes, a few grunts, and a disheartening twang, the A string was broken and I was sinking into despair. How am I going to play this thing if I can't even tune it? I scooped up the cello, stuffed it in the bag and fled to my bedroom to sulk.
The next day, the engineer in me arose and considered the problem rationally. Granted, the wooden pegs are a sacred tradition of stringed instruments, and no good cellist would violate that tradition. Besides, if you play a $100,000 Strad, you'd be crazy to mess with it just to make tuning easier. But I have a $180 Merano and no luthier anywhere nearby, so I can do as I please.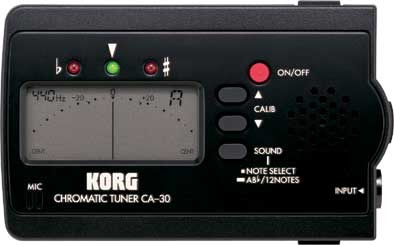 First stop is the web. First I find that I'm not the only one who finds the pegs unwieldy. There are geared tuners made especially for cellos (Cello Machine Heads), and even traditional-looking pegs with planetary gears hidden inside (Pegheds) so only your luthier knows for sure. Encouraged, I decide that the official cello solutions are too pricey for my cheap experiment, so I order a set of bright chrome bass guitar heads for $25 on eBay. I also order a Korg electronic chromatic tuner for $15. I left the cello in the corner for the next week and went on with my life.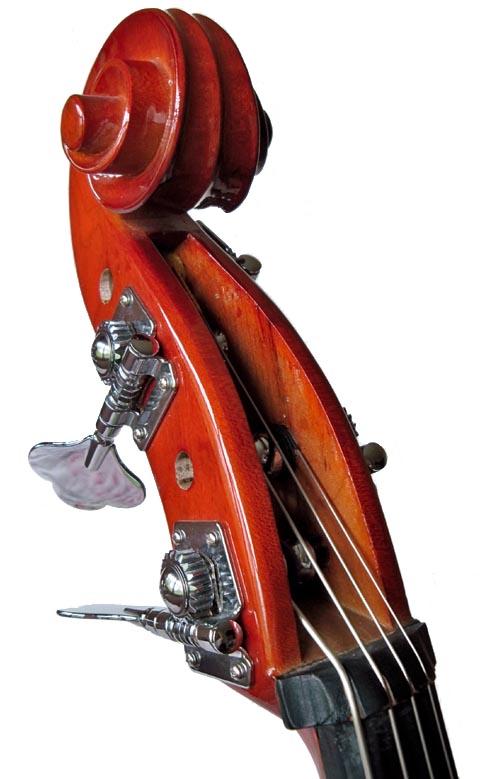 The machine heads work perfectly. I would not recommend bass guitar heads for anything but a dirt cheap cello, since the shaft diameter requires drilling out the tapered peg holes, and the plates must be screwed to the outside of the pegbox with little woodscrews. But I don't care. This is just an experiment, and very little money is at stake. After a day or two, the strings were stretched and the cello body compressed and now the thing stays almost perfectly in tune for days. And it only takes a minute or two with the Korg tuner to get it right when it does go a bit flat. I start with the C string and work up to the A, and it rarely requires a second pass. The cheapest cellos have plywood bellies and backs and I think that makes them more stable than better instruments.
Once the cello was tuned and playable, it had to be played. I discovered that the bow makes essentially no sound at all without rosin, and it takes a lot of rosining the first time. The cello came with a little block of cheap rosin that was rather like a piece of glass – brittle and crumbling. I was able to rough it up and get enough on the bow to play, but I promptly ordered some real Melos rosin on eBay.
Now the family gathered around for my debut, and we all thrilled to the first strains of "Twinkle, Twinkle". I am now a cello student.