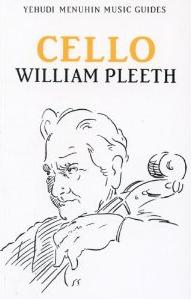 I think I might have quit the cello by now if I had not happened upon this book at the library. William Pleeth's Cello was the perfect antidote… or counterpoint to Complete Cello Technique, and the medicine I needed to keep going. Pleeth was a brilliant cellist, but also a brilliant teacher, probably best know for teaching Jacqueline du Pré in her youth.
Cello is a comprehensive book, including an interesting history of the cello and it's repertoire. But the heart of this fascinating book is Part One: The Philosophy of Playing the Cello. Like some ancient wisdom text, I keep returning to these pages and gleaning some new insight each time. Pleeth introduces his discussion of technique with the words "The spirit of the music is the only thing which can rightfully dictate physical action on the cello."
He urges a oneness between cellist, cello and the music but "…one hears instead the opposing forces battling against each other – 'me versus my cello, and the two of us versus the music' – and cellists often reduce themselves to that kind of battle…" I can relate. The days I feel like throwing the cello out the window are the days of battle. Pleeth helps me see that the goal is to feel the music within and let it out naturally – bowing a phrase is like breathing it out. Even the left hand, instead of mechanically hammering each note, must feel the flow of the music and express it on the fingerboard. This ideal is at once lofty and seemingly unapproachable to a beginner like me, but as I have relaxed and allowed playing to be a more mystical experience, I've found truth in his words.
In practice, sometimes I need to work on technique, slowly stepping through a passage that is too hard, so that my fingers get used to the movement and can memorize it. But I must balance that work with the joy of playing something simple – something I have already internalized – and allowing it to flow from the heart.  I think that's what I most enjoy about string playing – it's possible to play a very easy piece with great beauty, even as a beginner.
Pleeth does give instruction in technique, but always in a philosophical setting. He discusses the "architecture" of the music and the importance of discerning it and playing from it, rather than numbly moving through the printed notes. He emphasizes working the left hand always from a place of "release" instead of holding on tightly. Freedom of movement and lightness lead to agility in fast passages. He urges the student (and the teacher) once the basic fingering and bowing are grasped, to explore as many alternatives as possible and see how they affect the music.  He warns against two attitudes that block us in the pursuit of technique… the search for security and the greed for achievement.
He nailed me! Here am I, the rank beginner, full of fear of making mistakes and at the same time frustrated that I can't do what Yo-Yo Ma does.  If I am going to enjoy this new adventure – if I am going to even continue it – I must give up both of these attitudes. The search for security and greed for achievement are just two sides of that same evil coin – comparing myself to someone else. I won't measure myself against Yo-Yo Ma or any other cellist. That's not the point at all.
Play with abandon. Experiment. Relax. Enjoy. Tap into the passion of my heart and see if I can let it out freely on the strings. Yes, there is a time for hard work. But that time is when I am feeling good about the cello, and that isn't every day at this point. Yes, I want to become a better cellist, but if it's only so I can feel part of the "club" or think I'm better than someone else, then it's pointless. The reason for improving is so that I can make the music I long to make.
I will keep returning to Pleeth's well. There is much more there than I can understand right now, like the cello itself. This book will be a companion to comfort and prod me on along this unfamiliar path.