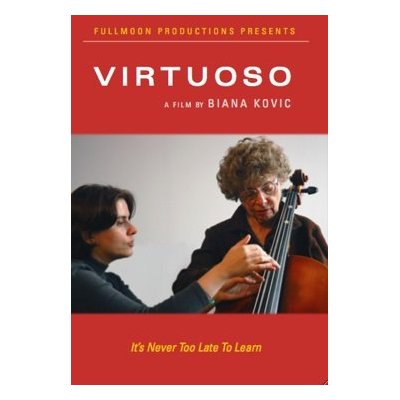 No, I'm not a virtuoso yet. That's the title of a charming little documentary film by Biana Kovic, a cellist and teacher in New York City. Biana enlisted 89 year old Matty Kahn to learn to play the cello in one month. The film tells that story, along with some side interviews about the good things that happen when older people learn to make music.
As I watched Matty learning the rudiments of the cello, I could see my father, who is 92, learning new things on his computer. There's a bravery in their generation that I wish I possessed. They feel their limitations every day, but they happily forget them and push the limits, unafraid of failure. If they are frustrated by their slower progress, they don't let on. Watching them inspires me to try as well – now when I am not quite so limited – and to be thankful for whatever years remain for me to learn and grow with music. I'm glad I titled this blog Mid Life Cello. I'm only a little over halfway to the age of Matty, or my father, and I've already started the cello!
My mother, at 85, still plays the organ in church. When I started learning cello, I didn't tell her about it for the first month. I imagined her laughing at the idea. Of course, she didn't laugh. She thought it was wonderful. And she admitted that she'd always dreamed of playing the violin. She's been a big encouragement to me. Matty Kahn's brother-in-law laughed. But her nieces and nephews thought it was great. "Encouragement is a wonderful thing," says Matty. And so it is. If at first you don't find encouragement, look somewhere else until you find it. And be quick to give it away to someone else who needs it.
Biana Kovic specializes in teaching adults in her New York studio. She made the film to encourage teachers and seniors everywhere to do what she and Matty did. We are a high-tech, high-speed nation that has no time to waste teaching an old person something they may never be good at, and may only enjoy for a few brief years. We want to invest where growth is sure. But that is not really who we are. That is just the industrial/commercial us the marketing department and their advertising tells us we are.  I'm glad there are still many real people, like Biana, who see the precious treasure that our parents and grandparents are, and want to invest in them.