I love fiddle music. Maybe it's the soul of my Scottish and Irish forebears still alive in me. The lively jigs and reels that make you want to dance – or the ballads and airs that make you want to cry – evoke some romantic longing for the old country. That soul came to the new world and lives on in Appalachian and Bluegrass music.
Fiddle music is fun. But it's not much connected to my instrument of choice, the cello. The cello grew up in the high culture classical music tradition, and was never part of the peasant life that produced the fiddle music I love. Nevertheless, a violin and a fiddle are the same instrument (When you're buying, it's a fiddle. When you're selling, it's a violin.) and a cello is just a big violin. So you ought to be able to play fiddle music on a cello. An appealing thought, and not an original one as I discovered.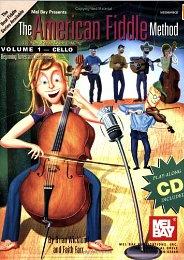 I bought the Mel Bay American Fiddle Method cello book and gave it a try. First, I found out what a method is. When engineers apply for patents on methods of doing things, they have to explain the method in detail, so someone of "ordinary skill in the art" can duplicate the idea. And the method must be novel – something no one thought of before. None of this applies to a musical method. In the world of music, a method is just a sequence of songs to learn that gradually introduce progressive skills. The sequence is usually embodied in a book, also called a method. The engineer in me was disappointed to find precious little explanation of how to play the cello like a fiddle – that's up to the student to figure out – though the Mel Bay book includes a CD of all the tunes so you can pick up the style by listening and trying to get the same effect on your instrument. Traditionally, fiddlers didn't learn from books – they learned by watching and imitating better fiddlers.
Anyway, the Fiddle Method is a fun change. Most of the tunes are familiar and challenge my sluggish fingers to step lively, like the dancers the old-time fiddlers fiddled for. Fiddle tunes, of course, were composed for violins, and some require real finger stretches on the cello, where the notes are spread out. That's forced me to learn some phrases in higher positions.
Of course, the pieces are transposed down, usually by an octave, to the cello's range. The tunes work there, but I miss the edgy fiddle sound. Makes me want to get a cheap Chinese violin…